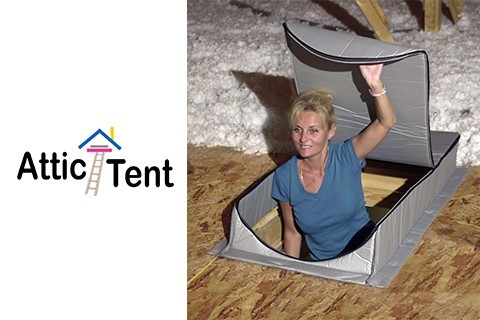 Attic Tent

Company Spotlight
The Attic Tent® was designed because homeowners needed a reliable, quality, and energy-saving attic access cover that would last for years.
The Attic Tent® is the ultimate attic access insulation cover (attic stairs, scuttle holes, knee-wall doors, and full-size doors), with proven customer satisfaction and marketability. Its primary design is to stop air infiltration between the home and attic, the most common medium for wasting costly residential energy during both hot and cold seasons. The HVAC systems in homes are designed for a closed envelope, making air balancing with supply and return air, very critical. Every time these systems are operating, they create a positive or negative pressure, thus forcing conditioned air out or drawing outside air in the home. It also keeps out unhealthy insulation and dust particles from the attic. Improves HVAC efficiency & adds comfort to the home by sealing the envelope & stopping air infiltration all year long. Helps with allergy control in the home (IAQ).
Attic Tent® is the only insulated attic access cover on the market with tested results by a national third party.
Oak Ridge National Laboratory (ORNL) tested actual performance effects in a simulated home application.
ORNL rated all Attic Tent® sizes at a 6.6 R-Value and a 76% reduction of energy/heat flow loss.
Only the original Attic Tent® carries a full 10-year warranty against manufacturer defects.
8 sizes available to accommodate all size openings. Our Attic Tents are made from durable materials; heavy-duty nylon zippers allow for easy access. It comes fully assembled & can be installed in 15 minutes or less. Great add-on product for all jobs, increasing service call revenues $100-$200.
The original Attic Tent® is the industry standard for insulated attic access covers and is a name you can trust
To Top